Start taking payments with Square in RepairQ® today!
Sign up for RepairQ now and improve your point-of-sale experience.
RepairQ

®

is the most trusted end-to-end, web-based point-of-sale and management software designed specifically for mobile device repair.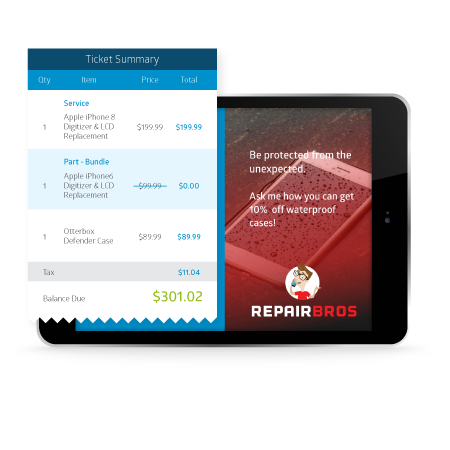 Not your average point of sale.
Most point of sale systems are limited by trying to fulfill everyone's needs, while RepairQ's POS is built intentionally for retail repair. Learn more >
A CRM with more bite than bark.
Shift your focus from selling products today, to building loyalty for a lifetime.  Learn more >
Take your business to the next level.
Get the tools you need with our versatile business management suite. Learn more >
Software built intentionally for you.
Make your inventory and ticket tracking simple, yet brilliant.  Learn more >
Upgrade your customers' experience with Qpop™
The point of purchase is your final opportunity to leave a lasting impression on customers. Make sure to wow them with the latest technology.
What Our Users are Saying
RepairQ in my opinion is one of the finest CRMs out there for brick and mortar businesses. I would recommend RepairQ to anyone who asked without hesitation.
James Van Raden, iCare Electronic Repair
Good controls are available, which means we can have a really good depth and breadth of reporting. Because the system allows for rigid restrictions, we rely on the data that is produced.
Alicia Wiggin, Genius Phone Repair
RepairQ has always been our only choice for POS. We have tested many others but have always stuck with RepairQ. With constant updates, we're never bored with the system. It offers everything from email marketing to SMS notification. I couldn't have asked for anything better.
Mike Berro, iRepair Smartphones
RepairQ is user friendly, has any information necessary for running and measuring our business and the support is great.
David Smith, Cellular Source
I love the ease of keeping customer information and tracking repairs. RepairQ is Just what we needed. 
Sandra Nunley, Consumer Electronics